NCCSAH East Bay Julia Morgan Tour
September 29, 2022 @ 9:00 am

-

5:00 pm

$130.00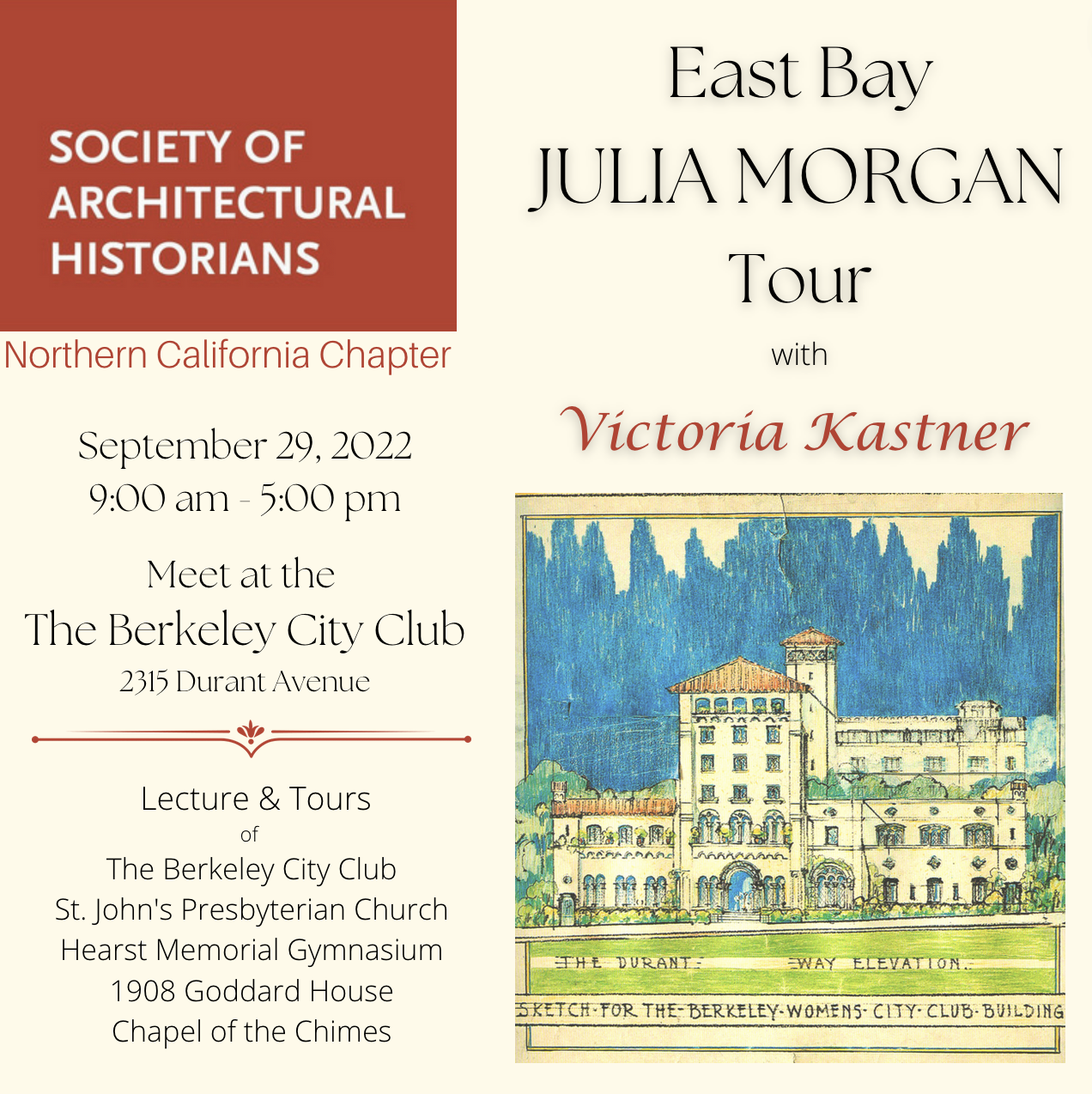 Fall Season Brings NCCSAH East Bay Julia Morgan Tour
The NCCSAH has planned a spectacular fall 2022 lecture and tour focusing on the life and architecture of Julia Morgan led by Victoria Kastner, the historian at Hearst Castle for thirty years. The lecture/ tour will be Thursday, September 29 from 9:00 am to 5:00 pm.
Some will recall that Ms. Kastner led the extraordinary NCCSAH tour of Hearst Castle in November 2015. Her best-selling, recently published book, Julia Morgan: An Intimate Biography of the Trailblazing Architect, will be available for sale at the tour. The first printing of the book sold out in two weeks.
We will begin the program with coffee and pastries, at 9:00 am at the 1930 Berkeley City Club (originally
known as the Women's City Club), 2315 Durant Avenue. Victoria Kastner's talk on Julia Morgan's life and architecture will begin at 9:30am. At 10:30, Ms. Kastner will lead a tour of the City Club, a building of great
beauty and dignity, often referred to as "Julia's Second Castle." A short walk takes us to the Hearst Memorial Gymnasium on the UC campus, a 1927 collaboration of Morgan (who designed the swimming pool, which we will see) and Bernard Maybeck.
Lunch will be on your own from 12:15 to 1:15 pm (there are many lunch options in the area).
We return to the City Club by 1:15, where a charter bus will take us to the 1908 St. John's Presbyterian Church (now the Berkeley Playhouse), a landmark in the Craftsman Style by Julia Morgan. Thereafter, we'll bus to the nearby privately owned 1908 Goddard House to tour the painstakingly restored interior with beautiful period furnishings and light fixtures.
The tour will end at about 4:30 pm at the what may be Morgan's most profound and sublime building, the Chapel of the Chimes, in Oakland. The bus brings us back to the City Club.
Lecture/tour fee is $100 for NCCSAH members/$130 for non-members (includes annual NCCSAH membership).